Whale One Cruises Mooloolaba
Purchased from Australia Zoo, "Whale One" resides at the Mooloolaba Wharf on the Sunshine Coast. "Whale One" is 65′ of pure luxury with full walk around decks, large cabin areas, plush seating plus plenty of undercover seating around her spacious decks, licensed bar and toilet facilities. She is available for Whale Watching Cruises, Sunset Cruises,  Corporate Functions, and Parties.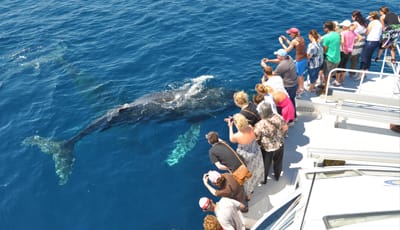 Whale One Features
"Whale One" will carry 115 passengers comfortably in enclosed waters and 100 out to sea. Her interior cabins are decked out with plush luxurious seating – LCD 40″ TV Screens – the larger cabin downstairs will seat 40 people comfortably all with tables, the upper deck has dining tables. The Lower Deck boasts a full walk around deck allowing easy movement around the boat.
Lower rear undercover deck with seating and plenty of seating on the front deck. The upper deck has tables and seating for 30 people with excellent weather protection, the upper deck will seat comfortably around 50 people. The fully licensed bar offering a good range of local and imported beer and wines. The Bar is located on the lower deck inside the cabin area. There is plenty of seating all around the boat with two full toilet facilities onboard.
Our friendly crew with their big smiles and happy attitudes will ensure your day is memorable – you will want to come back again and again. Our crew are there for you.